Here's your chance to get to know the staff behind the scenes at AngelsWin.com, your internet home for all Angels fans. You won't find an All-Star roster like this anywhere on the net.
AngelsWin.com's work over time has appeared or been heard on the following outlets: XM/Sirius, USA Today, ESPN, MLB.com, "Under the Halo" - Angels Historical Book, MLB Network, FSW telecast, FoxSports.com, Fox Sports Fantasy Baseball Magazine, MLB Trade Rumors, Japan Times, Mainichi Daily News, Washington Post, AP News, NESN, LA Times, Orange County Register, Press Enterprise, AM 830, KNX 1070 and Yahoo Sports.

Google has AngelsWin.com ranked #1 for Search Terms "Los Angeles Angels Fansite", "Los Angeles Angels Forum", "Los Angeles Angels Message Board" -- ranked #2 on Google for search terms: "Los Angeles Angels Website" and "Los Angeles Angels Blog".
Without further ado, here's our winning team's Sick Lineup...


Chuck Richter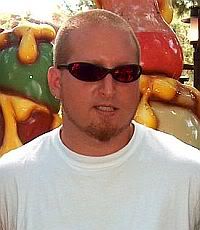 Founder, Executive Editor
I became an Angels fan some time in 1978, I was eight years old. My step dad Robert Holmes would always look for an Angels game to put on the radio when we were in the car driving around, in the garage working on the car or outside doing yard work, if the game wasn't on television. I became familiar with the players that year and in 1979, when the Angels won their first pennant, I became a lifelong fan. From that point forward, there weren't many Angels games I missed on either the radio or television. My three favorite players of all-time are Chili Davis, Tim Salmon and Vlad Guerrero.
If I'm not perusing baseball stats, writing about Angels Baseball or involved in discussion at AngelsWin.com, Facebook or Twitter, I'm spending time with my wife and kids and enjoying the great outdoors in the Pacific Northwest. I love drinking red wine, trying out new beers, watching sports, creating new food recipes and grilling in the summer. I try to make it out to see live comedy as much as possible, love going to concerts (Love the 80's), attending church on Sunday, river-floating in the summer and watching movies. As far as work outside of AngelsWin.com, I'm a software engineer - technical/systems analyst and have worked for Microsoft in the past. I've been blessed with three kids: Jared, Joann and Trinity and an extremely supportive wife. We also have two dogs, Max (Anatolian Shepherd) and Princess (Boxer/Pit mix).
For more on Chuck Richter and the website check out our
About AngelsWin
section.
Adam Dodge

Adam Dodge is senior most writer and contributor to AngelsWin.com. Currently, I'm the director of sales, marketing and operations for an Irvine-based Human Resources firm. I've been fortunate enough to chase many dreams through the years, having received football scholarships to both Kent State and NW Missouri State Universities. Performed stand-up comedy in southern California for several years last decade and enjoyed guest spots and multiple hosting opportunities on Angels Radio.

Adam's primary objective is to make every moment of every day as fun and enjoyable as possible. He and his wife Michelle are expecting their first child sometime this August and he vows to be completely objective about his child's appearance. "If my baby is ugly, I'm telling everyone that my baby is ugly."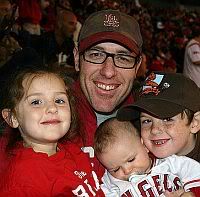 Geoff Bilau is senior writer of marketing and communications for an international association and co-editor of its 50-plus year old industry trade magazine. Prior to this, Bilau served in myriad capacities as a newspaper journalist at the Los Angeles Times, Orange County Register and Los Angeles Area Newspaper Group among others, earning accolades as a sportswriter, copy editor and page designer of front pages and features sections.

A lifelong Angels fan who grew up a mile from the Big A and fondly remembers riding up Orangewood Avenue on the gas tank of his father's Suzuki motorcycle to watch Nolan Ryan and Frank Tanana pitch in the late '70s, Bilau welcomed his first child hours before the Angels defeated the Giants, 6-5, in Game 6 of the 2002 World Series.
David Saltzer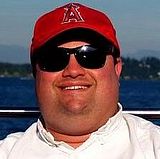 Senior Writer, Minor League Analyst
David Saltzer is a high school history and science teacher and a lifelong Angels fan. His first Angels game came in the mid-1970s and he has been going ever since. He was with the team for the post season run in 1986 and for every post-season game in 2002. He was even one of the few die-hard fans remaining in the stadium to see Dick Schofield's grand slam against Detroit on August 29, 1986. His favorite moment with the team, though, came at the start of the 1986 season when he threw out the Opening Day pitch to Mike Witt in 1986 representing the Pediatric Cancer Research Foundation.
As the Senior Writer for AngelsWin.com, David covers the Angels from multiple angles, trying to find the stories and issues affecting the team. He covers the Angels Minor League teams as well as the parent club, and enjoys watching the players develop through the system. He writes a separate column for the AngelsWin.com giving his take on broader events affecting the game of baseball. When he is not at the ballpark, he can be found with his wife Robin and his three sons.
Rob Goldman
Historical Writer, "Once They Were Angels" Author
A native Californian, Robert Goldman's ties to the Angels go back more than three decades, and include stints as a team batboy in the mid-seventies and visiting clubhousee attendant. Goldman played baseball at Mendocino college, and graduated with a BA in Theater Arts from Sonoma State in 1988. He has acted in several films, including Dances With Wolves, JFK and Overboard.
Goldman is the co-writer of the NBATV documentary Skywalker: The David Thompson Story.
Once They Were Angels
was Rob Goldman's first book, and he worked with Tim Salmon to help write
Always An Angel - Playing the game With Fire and Faith
. Goldman resides in Thousand Oaks, California. Rob also plays the Dodger's first base coach in "42," the upcoming feature on Jackie Robinson.
*You can purchase Rob Goldman's book
"Once They Were Angels" here
.
Geoff Stoddart
Director of Social Media
Geoff Stoddart is a senior partner marketing and enablement manager for a global technology company. In addition to his role on the AngelsWin.com Board of Directors, Geoff serves as our Director of Social Media. His humorous and lighthearted approach to tweets and status updates continues to drive awareness of our site and expand our user community. His talents were recently recognized by the Orange County Register as Geoff won the first half of the 2012
#AngelsFamily
Twitter Contest:
http://www.ocregister.com/sports/half-361163-angels-angelsfamily.html
Growing up, Geoff's family was Angels season ticket holders from the late 70's to early 2000's. He was fortunate enough to witness such amazing events as Reggie Jackson's 500th home run, Rod Carew's 3,000th, the Langston/Witt combined no hitter, Wally World and of course the 2002 playoffs. Today Geoff lives in Fort Collins, CO with his wife Tracy and their three boys.
Brian Ilten
Director of Marketing

Brian Ilten has operated his family's 45 year old PIP Printing franchise since he was 18 and over the years has served on numerous industry advisory councils and steering committees. Growing up in the business he has seen the printing and marketing world go from traditional print to one that is completely digital. The marriage of computers to printing and marketing, plus his love for Angels baseball keep him busy.

A fan from within the womb, Brian's Grandfather and Father were longtime fans of the PCL L.A. Angels, so it was natural that he be brought up to know no other team. He now has three sons who have been brought up with the same Halo Values. The greatest game he ever attended was Game 5 of the 1986 ALCS. Although the Angels lost, the drama could not be matched, and of course that single game defined his generation of Angel Fans, "No amount of success we have achieved would be as great without the heartbreak of 1986". Considered a pioneer in online baseball discussion, he first started talking Halos on AOL in the early 90's and a number of those acquaintances he made are now active here on AngelsWin.


Bruce Nye
Director, Senior Adviser, Columnist
Bruce Nye is a retired financial executive living in Orange County. He has been a chief financial officer for several companies specializing in medical device, biotech and technology businesses. Holding a BBA from Idaho State University as well as an Executive MBA AEA from Stanford, he is a CPA and worked for 12 years at Price Waterhouse in Los Angeles. He has extensive international experience in Europe, Asia and South America.
Bruce has been an Angels fan since 1968 and has shared season tickets for 29 years. His hobbies and interests include golf, Angels Baseball and gardening. Interesting fact about Bruce; for four years he was the man handing out the envelopes on national TV for the Emmy prime time broadcasts.
Ellen Bell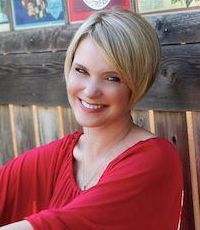 Columnist
Ellen Bell is an author, local historian, and a life-long baseball freak. For the past four seasons, she has written the Afternoon Angel Blog for OCRegister.com where she has covered the game from the fan perspective. A Spring Training Veteran, Ellen and her son haven't missed a March in Tempe for more than a decade. He used to share her peanuts. Now he wants to share her beer.
Ellen learned about baseball in the bleachers of Wrigley Field. She still bleeds Cubbie Blue which complements her Angel Red quite nicely. The only time she feared her dual allegiance might be challenged was in the 2008 season when both the Cubs and the Angels began the postseason in first place. Unfortunately, she didn't have the chance to choose.
She's also a contributing writer for Orange Coast Magazine, OCFamily, and Destination Irvine. She writes about local adventures as the OC Day Tripper for OCMetro.com.
Ellen lives in Irvine, with her husband and their two, almost-out-of-the-nest children.
Brian Waller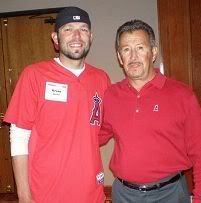 Columnist
Brian Waller is 29 years old and graduated from California State University San Bernardino with his bachelor's in Business Administration. Brian's favorite memory of the Halos is of course the final out of the 2002 World Series when the team won its first ever championship.
Brian actually grew up in a family full of Dodger fans but opted to root for the underdog Angels in the 1980's. Since then Brian has passionately followed the team through all of its ups and downs throughout the years. Brian is a proud father of two and enjoys going to games with his family on a regular basis hoping to ensure the family's new generation of baseball fans opts for Halo red instead of Dodger blue.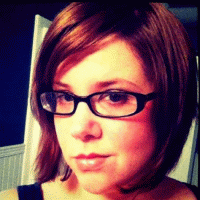 Columnist, Feature Writer
Jessica Grey is an author, fairytale believer, baseball lover, and recovering Star Wars fangirl. A life-long Californian, she now lives in Montana with her husband and two children, where she spends her time writing, perfecting the fine art of preschooler-wrangling, and drinking way too much caffeine. She writes young adult fairy tale adaptations and chick-lit Jane Austen novels and somehow manages to squeeze baseball into all of them.
Raised by a Dodgers fan, Jessica had her "come to Angels" conversion experience in her early teens. She will not tell you how long ago that was because then she would have to kill you. When the Angels won the World Series she ran around her living room in circles screaming incoherently at the top of her lungs. She hopes to repeat the experience this season.
Scott Fowler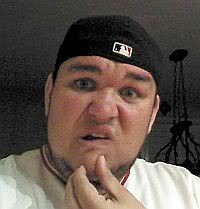 Columnist, Feature Writer

Scott Fowler is a Project Manager, plying his skills in the Healthcare Industry in Southern California. An avid hockey and baseball fan, Scott started his foray into the world of sports blogging with his former site, www.ocsportsgeeks.com. In College, Scott Majored in Microbiology, minored in theater and graduated with a degree in business. Read that again. Yep. Sums it up, rather succinctly doesn't it? His style tends to be irreverent, he hates writing about himself in the third person (as he is not an NFL wide receiver), and he has a huge head. So big, in fact, that his niece actually thinks the hats at the Big A might fit. "Look Uncle Scotty, they have hats in your size!" Hahaha...go get some cracker jacks.

He currently lives in Orange with his wife Shannon, his son Aidan (11) and daughter Molly (17 months), splits a season ticket package w/ some friends, drinks bourbon, yells at his TV when the 'pen collapses. Same when when Trumbo homers and he wakes his sleeping kids. He also pays little attention to run on sentences. And fragments.


Robert Cunningham
Columnist, Feature Writer
I had two passions in my early teenage years: Baseball and Astronomy.

Growing up in Santa Maria, California, my parents and brother exposed me to the Angels and Dodgers through field trips to Los Angeles to watch the games. In the early 80's, however, I developed an affection, and, subsequently, lifelong love for Angels baseball that has lasted over the years till today. My Angels heroes include, but are not limited too, Brian Downing, Doug DeCinces, Bobby Grich, Mike Witt, Wally Joyner, Dick Schofield, Chuck Finley, Garrett Anderson, Tim Salmon, Scot Shields, Darin Erstad, Troy Percival, Vladimir Guerrero, Chone Figgins, Jered Weaver, Mark Trumbo, Torii Hunter, Dan Haren, Hank Conger (my avatar is baby Hank), Peter Bourjos, and, of course, Mike Trout! Angels players have been, and continue to be, important milestones in the journey of my life and I am thankful for the many kind memories that baseball continues to share with me to this day.

But back to my two passions, one of which died in 1987. I had decided to try out for the freshman high school baseball team, as a carefree, extremely impressionable young man.... It didn't go well.

Coach Moore informed me after a week of try outs that I had been cut. As an experience that many of you are familiar with I took the rejection pretty hard. Perhaps I just didn't have the talent but, without the discipline and perseverance that I developed later in life, that dream died that day. Coach Moore must have felt bad because he gave me an 'A' in my physical education class, that semester, that I really didn't deserve. Ultimately, however, he did do me a favor that day by exposing me to some adversity and pushing me to my eventual pursuit of my other passion, astronomy.

Although I took a very long and circuitous route to get there I graduated in May 2010 with my Master's degree in Aerospace Engineering and completed a long 20 year journey through the, sometimes murky, waters of life and can proudly lay claim to being a rocket scientist! Over the last five years I have worked for the U.S. Air Force at Space & Missile Systems Center and currently work for Northrop Grumman Aerospace Systems in an engineering capacity. I live in Los Angeles, CA and in my spare time I enjoy "pwn'ing noobs" in computer games, watching Angels baseball, enjoying life with my wife Firozeh, playing with our "babies" (the Shi-tzu, Pomeranian, and Chihuahua) and writing part-time about my favorite Angels players for Angelswin.com under the handle 'ettin'.
Scott Stedman
Angels Prospect Report, Minor League Analyst

I am a junior at Fullerton Union High School and I eat sleep and breathe baseball. I've been playing baseball since I was 4 years old, and I am currently playing ball for my school. Junior Varsity Freeway League champions, I might add. In the classroom, I proudly maintain a 4.2 GPA. I plan on going to a prestigious 4 year university and majoring in Business or perhaps Sports Management. It may sound strange, but I hate all other sports besides baseball. Don't ask me the first thing about soccer or football. Somewhat of a political junkie. In the off-season/my free time I enjoy riding dirt bikes, taking in any baseball I can, tweeting, and long walks on the beach at sunset.

I began writing for AngelsWin in August of '11, and couldn't be more thankful for the opportunity. Already, I have made connections and keep in contact with players, families, and scouts. Usually, I like to rely on my eyes slightly more than stats, but gradually I am liking SABR stats more and more. But as in anything, you need to find the perfect combination of both. I enjoy following the careers of prospects because you can dream. Brandon Wood and Albert Pujols are here to tell you that. You just don't know. With major league players, you basically know what you are going to get. With a 20 year old in Single A ball, who knows what kind of a big league player he will be. You can dream.


Rick Dykhuizen
Salt Lake Bees Representative, Journalist
I am a lifelong Cubs fan and a devoted Angels fan since 2002! Unlike some, I didn't jump on the bandwagon once the Angels won the World Series, 2002 is when the franchise moved to Salt Lake City and once I saw that first team, I was hooked! Interestingly, this is not the first time I have been involved with an Arte Moreno owned baseball team. Arte was a minority owner in the team I grew up going to games of; The Salt Lake Trappers, who (mostly) were an independent team with Bill Murray as an owner as well. The Trappers for years held the record for the most consecutive wins with 29 in a row during their magical 1987 season.
I am married with a young child and two pitbulls. My son was born on April 27, 2010 and is names Nicholas Aden after Nick Adenhart, and this keeps Nick in my family's thoughts on a daily basis. My Red Nose pitbull is named Wrigley and my American pitbull is named Cooper (for Cooperstown). I love going to games with my son and I am looking forward to him having fond memories of being at the ballpark with Dad. My hobbies are baseball, MMA and hanging out with my family. I am more than happy to answer any questions on the Bees or on Salt Lake in general. Hit me up on Twitter @rdykhuizen and let's chat!
*
In addition to those listed above, I wanted to give a very Special Thanks to our AngelsWin.com Forum Moderators and Contributors: Lou Garcia, Kurt Swanson, Thomas Crow, Cassy Carlson, Nick Mancini, Sean Dodds, Craig Malone, Sean Scanlon, Victor Varadi, Justin Williams, Melena Oleson, Vicky Endres, Tom Anderson, Randy Lawrence, Ricky Ramos, Brent Hubbard, Andre Castillo, Jason Sinner.